Thailand continues to develop itself, and its modern capital city Bangkok leads the way. It has become the birthplace of a growing startup scene that takes Southeast Asian innovation to a new level.
Promising new companies like Get Links, Hotelquickly and Omise are becoming influential players in the Thai hotel, networking and payment transfer markets. And it does not stop there, because they also aim for success in the rest of the region. During the upcoming BKK Startup Job Fest, they have a great opportunity to show and talk about their innovative business practices.
The very first BKK Startup Job Fest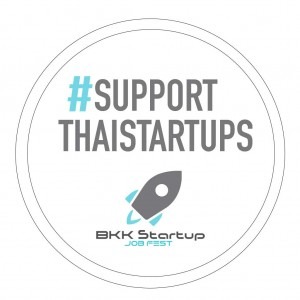 BKK Startup Job Fest is Thailand's first tech startup job fair. It aims to bring Silicon Valley to the city of Bangkok and has partly succeeded in this already. Big Silicon Valley market leaders like Google and Uber are present, along with 38 other influential Thai and international companies. The BKK Startup Job Fest is especially interesting for talented university students, digital marketers and programmers, who are looking to make their job and startup dreams a reality.
Anyone who wants to join this unique job fest, can sign up at http://bkkstartupjobfest.getlinks.co/. It will be held at Cyberworld Tower in Bangkok, from 25 to 26 July. Get Links and Hotelquickly are also present, making it a great opportunity to connect with these cutting-edge companies.
A new way of networking with Get Links
The Get Links team from www.getlinks.co entered the Thai startup scene with a convenient and time saving app for freelancers, entrepreneurs and job hunters. The Get#Link app helps them to find people and jobs, based on location and skills. With this innovative service, Get Links strives to reinvent the way job seekers and employers connect with each other. They do this by offering a real-time networking opportunity. 

There is a large group of talented and hard working people in Thailand, who will greatly benefit from this networking app. Get Links has the potential to become very successful, and it will put Thailand on the map as the hotspot for startups and work opportunities in Southeast Asia.

Hotelquickly speeds up the hotel booking process
Hotelquickly is another Thailand based company that currently rocks the startup scene with an innovative app. This app is aimed at travelers who want to save money and time. They can use it to book valuable last-minute deals at quality hotels in the Asia-Pacific region. Because of Hotelquickly, the booking process will take only a few minutes. With this convenient service, the company has the ability to take a strong position in Thailand's lucrative tourist sector.
Transferring money becomes easy with Omise
Although not present at the BKK Startup Job Fest, Omise deserves to be mentioned as an interesting Thailand based startup, because of its innovative payment gateway system for merchants and developers.
Omise wants to differentiate itself in the competitive Thai money transfer market by offering a simplified and convenient version of the familiar transfer process, one that will take away frustrations for developers and merchants. They can use Omise to transfer money with a convenient and secure API.
Recent investments in the company show that people see a promising future for Omise. This clears to path for them to expand their payment gateway service in other Asian countries.
The booming startup capital of Asia
With so many booming Thailand based startups and with the first BKK Startup Job Fest coming up, it is safe to say that all these positive developments make Thailand the startup capital of Asia. This is a process that is strongly embraced by all the young and talented Thai workers.
Free logo designs for Thailand based startups
We from Logo BKK also encourage all these promising developments, and it is our goal to help the next wave of cutting-edge startups in Thailand. Logo BKK can help rising companies with their branding, websites and print work or with online and offline strategies. With our expertise on creating professional logos and designs, we can add extra value to the further developments of these new companies.
We know the strong value and importance of a recognizable company logo. To help the startup community in Thailand with all their essential brand building objectives, we created a special promotion in which we offer free logo designs for all Thailand based startup companies.
Are you working on building a name with your company in Thailand, and did you become interested in this valuable promotion? Then please send us a message from our Startup Thailand page